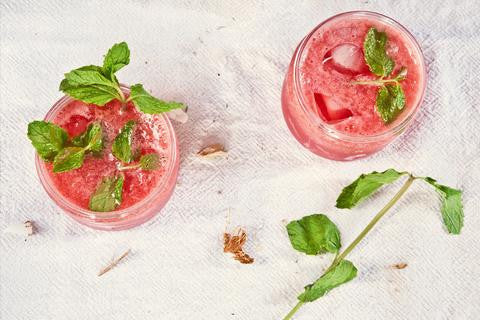 Four of our Favorite Spring Cocktails

Photo: Thomas Martinsen via Unsplash
4 of our Favorite Spring Cocktails
Warmer weather is here, spring is in the air, and cocktails are ready for pouring. Check out 4 of our favorite easy-to-make seasonal spring cocktails.
These colorful cocktails are (almost!) too pretty to drink.
Cherry Blossom
2 oz SVEDKA Cherry
1 1/2 oz Nigori Sake
1/2 oz cranberry juice
1/2 oz peach puree 
Garnish: cherry
Combine all ingredients in a cocktail shaker filled with ice. Shake vigoursly and strain into a glass.
Recipe via Cosmopolitan
Link: http://www.cosmopolitan.com/food-cocktails/g3022/spring-cocktails/?slide=1
The Blueberry Rum Smash
Fresh (or frozen) blueberries
1 tablespoon brown sugar
3/4 ounce fresh-squeezed lemon juice
2 ounces rum
Ginger ale
Cover the bottom of an old-fashioned glass or mason jar with blueberries (if you're using a smaller glass, make a double layer). Add the brown sugar and lemon juice and muddle (or smoosh with the back of a spoon) until the sugar is melted. The idea is to break the skins of the blueberries, but not to mash them into a pulp. Fill the glass with crushed ice and then add the rum. Top with ginger ale and stir.
Recipe via The Kitchn
Link: http://www.thekitchn.com/easy-summer-cocktails-blueberr-155174
Tequila Honeysuckle
The Tequila Honeysuckle comes from Stephen Starr's Philadelphia speakeasy, The Ranstead Room. Here's the recipe:
2 oz Milagro Blanco Tequilan
.75 oz Honey Syrup
.75 oz Lime Juice
Combine ingredients in a shaker and shake with ice. Strain into a coupe and garnish with a lime wedge.
Recipe via Town & Country
Link: http://www.townandcountrymag.com/leisure/drinks/how-to/g234/best-spring-cocktails/?slide=7
Tito's All American Lemonade
1 1/2 oz Tito's Handmade Vodka
Lemonade of your choice
Method:
Pour Tito's Handmade Vodka over ice in a glass and just add lemonade. 
Garnish: Mint sprig, if desired
Glass: Collins
Recipe via Tito's Vodka
Link: https://www.titosvodka.com/recipes/spring
---