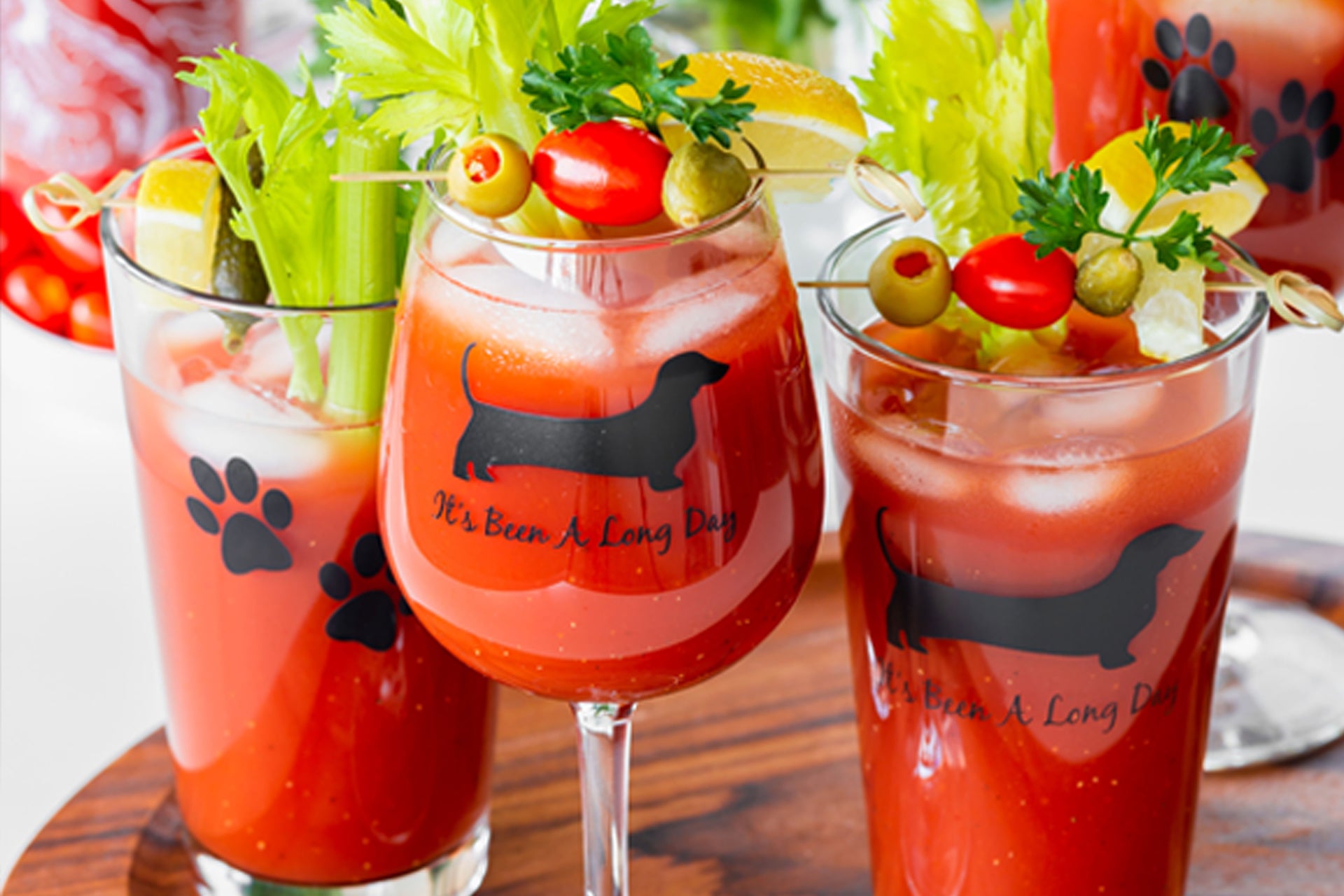 Build your best drink – and meal – at a Blood Mary bar
The DIY craze is great for some people. The ones who enjoy sewing their own clothes, or building decks, or creating furniture from raw blocks of wood. But what about the rest of the population, people who buy off the rack, hire contractors, and are afraid of cutting off our thumbs?


For us, a Bloody Mary bar is definitely Do-It-Yourself, but without the physical danger or the need to rip your creation apart for a do-over.


Yes, the host is tasked with shopping for ingredients and preparing ahead of the party. For the guests, though, the most difficult part is making a decision about what to put in the drink – including everything.


Imaginations run wild
If you haven't heard of it before, a Bloody Mary bar is the opposite of ordering a drink and having it delivered to your outstretched hand. Instead, the ingredients are stretched out before you. First, choose from tomato juice or V8 for the base. Then, while celery sticks will among the offerings, this bar will push you toward adventure. A slice of crispy bacon. A pink shrimp. A slice of lemon, a stuffed olive, a slice of pickle, a pickled beet or a pepper of indeterminate heat.


Your imagination – and that of the host -- is the only barrier.


Here's one thing you don't have to decide: the
best Bloody Mary glass
on the market is large, easy to hold, cute and available now from Drinking Divas.


Additional twists on the usual
If you are lucky enough to be invited to the home of someone who plans ahead, you will enjoy vodka suffused with unusual ingredients. For Bloody Marys, pickle-infused vodka imparts a briny taste that perfectly complements tomato juice, horse radish and the rest.


Cucumbers, peppers (that aren't too hot), or lemon slices might also work. To prepare, pour a bottle of vodka into a jar filled with your chosen ingredient. Shake the bottle once a day for three days, and your vodka will be flavored.


A thoughtful host will also provide pitchers of the Bloody Mary foundation: tomato juice or V8, each prepared with horse radish, liquid pepper, and the appropriate dry spices.


Have a lot of ice on hand, too, because the best Bloody Mary is a really cold Bloody Mary.


This recipe will serve as the basis of any Bloody Mary bar:
• 4 cups chilled tomato juice or one 46-oz. can of V8
• 
1 to 2 cups of vodka
• 
1/3 cup fresh lemon juice
• 
1 1/2 tablespoons drained bottled horseradish
• 
1 1/2 tablespoons Worcestershire sauce
• 
3/4 teaspoon Tabasco
• 
3/4 teaspoon black pepper
• 

Combine ingredients in a pitcher; stir.


It's a party
Set up a kitchen counter or a dining room table with all the ingredients that will contribute to a "meal in a glass." In addition to the suggestions above, consider smoked oysters, chunks of cheese like Roquefort and Gouda. Asparagus spears and any kind of vegetable (cooked and/or pickled when appropriate) are happy additions. Some people insist on salting the rim of their glasses, so keep a dish of kosher salt on hand, along with additional fresh-ground pepper.


Your guests will feel fortunate as they crowd around the bar while they drink, eat, talk and enjoy themselves.
---