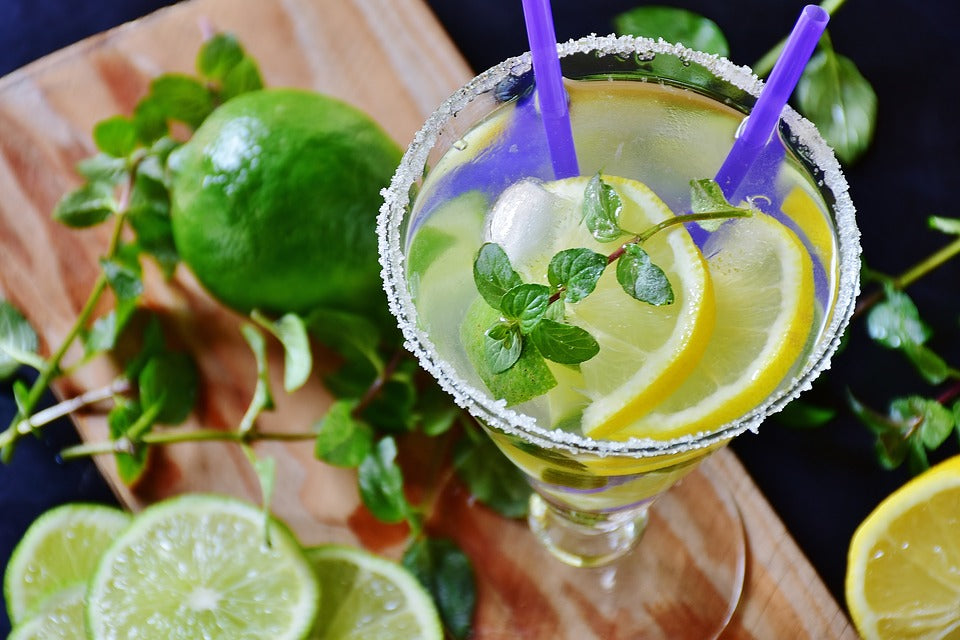 5 Cocktails You Need to Try Before Summer is Over!"
There's no denying it, summer is fun.
Happily, it's still summer! But we know what you're thinking: "Summer is almost over. Fall is good, too, but …"
So remember, it's still summer!
To help you retain your summer mood, we suggest you get some friends together and try out these still-summer cocktails, which take advantage of summer fruits and a touch of spirits to remind us of never-ending days, week-day beach lounging and tan lines.
We looked through dozens of websites to find the best recipes, and even pulled a favorite from our personal library. These drinks are simple to make and refreshingly light. We also suggest some fanciful Drinking Divas glassware to liven up the party even more.
An electric buzz
Vodka, fresh mint and sparkling water add a spark to Electric Lemonade from More.com:
1 cup fresh squeezed lemon juice
1/4-1/2 cup sugar
1/2 cup fresh mint leaves
1 cup sparkling mineral water
Dash ginger ale
2-3 cups ice
1 cup vodka
Mint sprigs and lemon slices for garnish

Chill 4 serving glasses in the freezer. Combine lemon juice, sugar, mint, mineral water, ginger ale, and ice in a blender. Add vodka and decorate with mint and lemon.
It's always Mexico somewhere
Would you let a summer go by without a glass (or a pitcher) of sangria? If you have neglected your summer diet, make up for it with a trip to the liquor store for the ingredients to make this French Rosé Sangria from Paste Magazine. It calls for a garnish of edible flower petals, which you can probably find at a farmer's market. If you don't want to spend the time, decorate with a leaf or two of mint.
1 bottle rosé wine
3 oz. Grand Marnier
5 oz. club soda
2 oz. fresh raspberries
1 sprig mint
Edible flower petals for garnish
Pour each of the above into a pitcher or cocktail shaker. Shake with ice, pour into a cocktail or martini glass, and serve. You can also serve over ice.
You are an imaginative host
We discovered that alcohol does not require drinking. It can also be slurped, as when you offer it in the form of these citrus and tequila ice pops. The trick is setting your freezer to high, because it's difficult to freeze alcohol. If you still want to give it a try, this recipe from Sweet Paul Magazine, uses disposable ice pop bags and promises a delightful result:
2 cups fresh grapefruit juice
1/4 cup lime juice
1/2 cup simple syrup
1 1/2 cups tequila
1 cup club soda
1 cup orange juice
flaky salt
grated lime zest
In a large bowl, mix together grapefruit, lime, simple syrup, tequila, and club soda. Fill the bags 1⁄3 full with the mixture and let them stand up in a bowl to freeze. Add the orange juice and freeze again, standing up. Once frozen, add the rest of the grapefruit liquid, tie, and freeze one last time for at least 8 hours. Serve with a mixture of salt and lime zest.
Drink like you're rich
We definitely are not jealous of people who summer in the Hamptons, with their gorgeous houses overlooking the magnificent Atlantic. We probably wouldn't attend one of their parties even if we were asked. But if we did attend, we would drink a Hampton's Rumor Mill, which we found while idly browsing Hamptons.com:
1 part cherry vodka
4 parts cola
Mix in a glass with ice and garnish with a cherry.
The islands beckon
We can't let summer end without a Pina Colada, the tropical drink that puts us on an island under a palm tree -- even if we're still in our backyard. This good version is from The New Potato.
2 ounces dark rum
3 tablespoons coconut cream
2 tablespoons pineapple juice
1/4 cup frozen pineapple
1 cup ice
Combine all ingredients in a blender. Blend until combined. Garnish with pineapple slice.
Your friends will like you
Here is our old favorite. You have to wait for its main ingredient to ripen, which may make you actually wish for late summer. This nectarine-basil lemonade is sweet and savory, and can be enjoyed without alcohol or with a shot of vodka. It takes a little more time to make, but it will likely be the hit of the party. We found it years ago in Gourmet Magazine, which has since gone out of business.
3 1/2 cups water
1 cup fresh basil leaves plus additional for garnish
2 nectarines
3/4 cup sugar, or to taste
1 cup lemon juice
In a small saucepan stir together 2 cups of the water, 1 cup of the basil, 1 of the nectarines, chopped course, and the sugar. Bring the mixture to a boil, stirring until the sugar is dissolved, and simmer it for 5 minutes. Let the mixture cool and strain it through a fine sieve set over a pitcher, pressing hard on the solids. Stir in the remaining 1 1/2 cups water, the remaining nectarine, sliced thin, and the lemon juice. Divide the lemonade among tall glasses filled with ice cubes and garnish each drink with some of the additional basil.
---