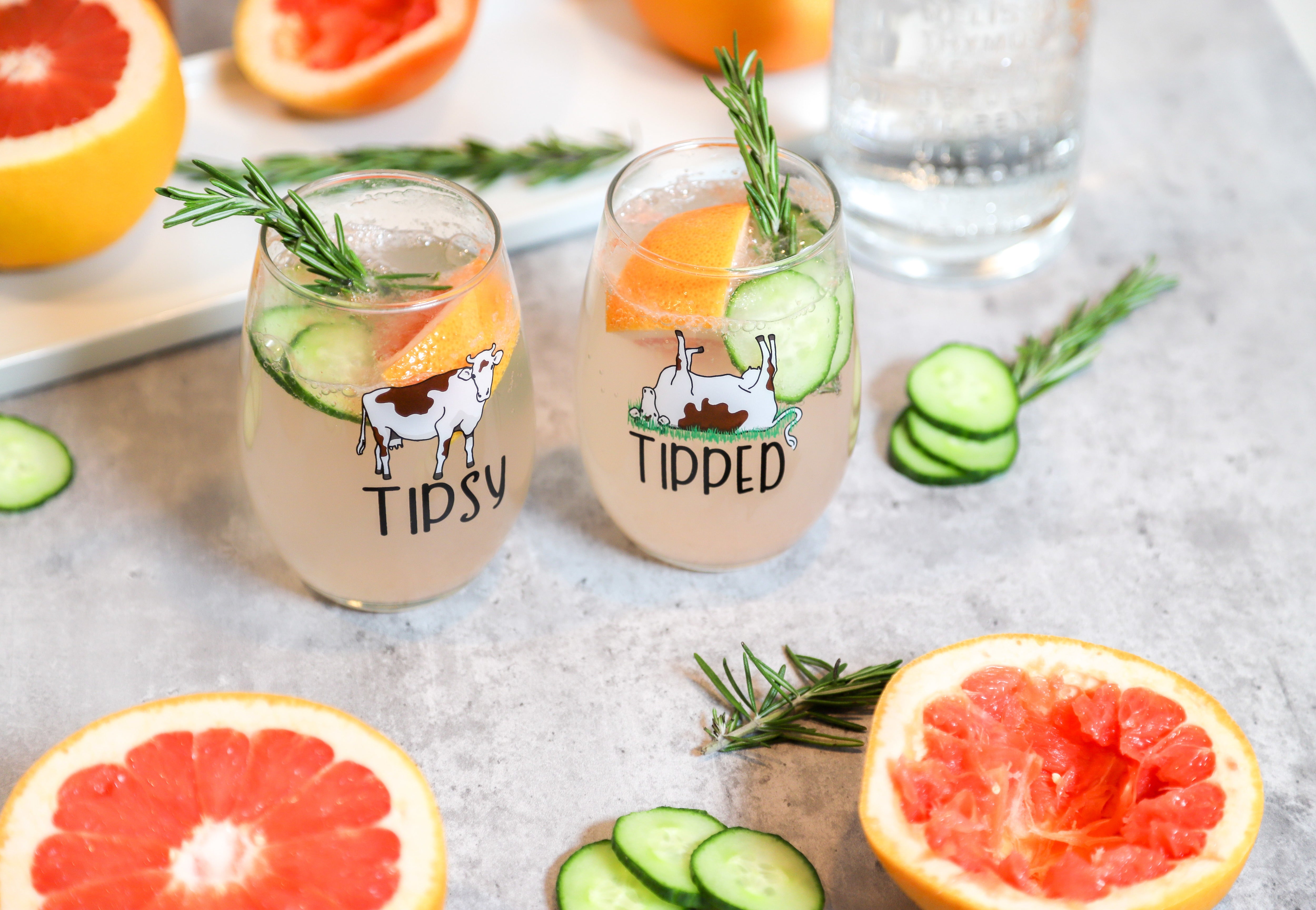 Get a taste of spring (hella early) with this refreshing cocktail
Who else is ready for spring to come, like, now? We certainly are. We've already had it with the ice on the car windows. That's why we're closing our eyes, picturing spring, and want to share this delicious Grapefruit Cucumber Gin Cocktail with the rest of our divas!
Next Ladies Night, you'll be the talk of the party when you serve these tasty, refreshing cocktails in a Drinking Divas glass. The best part of this cocktail? It's simple! All it takes is some gin, grapefruit juice, cucumber seltzer, ice, and of course some pretty garnishes to top it all off. 
It's also easy to switch around the recipe for you or your guests. Want a heavier drink? Make it two shots of gin instead of one. Looking for a fruitier taste? Just double the grapefruit juice. No matter how you like it, this is an easy party pleaser.
Grapefruits - the bigger and juicier the better. You want to grab at least one grapefruit per cocktail - the juice from one is the perfect amount to give the drink a fresh, fruity vibe. Pink is the way to go - but red grapefruits can work as well.
Cucumbers - these need to be nice and slim - grab some english cucumbers, which contain no seeds - nobody wants a mouth full of seeds in their teeth at your next party! English cucumbers are the perfect amount of crisp and clean, and give the drink an earthy touch.
Seltzer - Any normal club soda will give it some fizz and bubbles to bring out the flavors - we went for classic, but flavored sodas like Spindrift's cucumber or Perrier's mandarin would make it super fun as well. 
Okay, enough chit chat. I know you're dying to hear the recipe!
Grapefruit Cucumber Gin Cocktail 
Serves 1 
Prep time 5 minutes 
Ingredients 
1.5oz gin of choice 

2-3oz freshly squeezed grapefruit juice 

4-6oz cucumber seltzer*, or regular seltzer 

3-4 cucumber slices, thinly sliced 

1/2 grapefruit slice, thinly sliced 

1 sprig of rosemary ice 
Directions 
Fill a small cocktail glass with ice. 

Add 1 shot of gin (1.5 ounces), 2-3 ounces of freshly squeezed grapefruit juice, and finish it off with 4-6 ounces of cucumber seltzer. 

Garnish with 3-4 slices of cucumber, 1/2 slice of grapefruit, and 1 small sprig of rosemary. 

Enjoy!
This recipe is great, but we also added a couple more tricks to make it our own. Organic grapefruits from Whole Foods really make this recipe pop. If you're having trouble finding grapefruits or just don't have the time to juice them yourself, they also have a delicious grapefruit drink you can use. Using the best gin is also a huge part of making the drink taste it's best. We used The Botanist, but you can use whatever is your favorite!
Cheers!
---