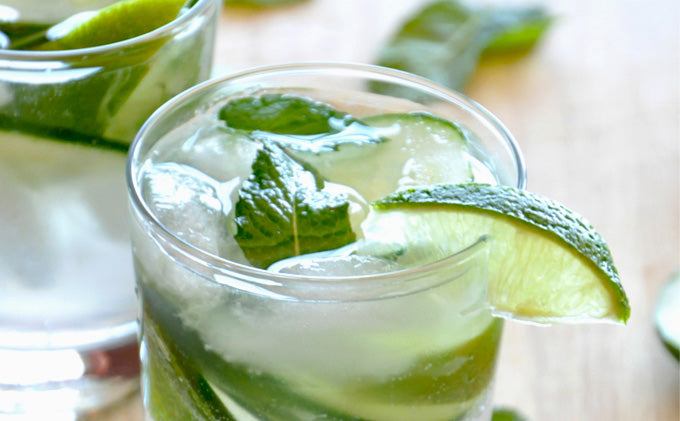 5 Spring Cocktail Recipes You Can't Live Without
5 Spring Cocktail Recipes You Can't Live Without
Winter has its pleasures, with hearty stews, holiday parties and afternoons in front of the fireplace. But now we are very, very tired of the snow and the cold rain. Happily, spring cocktails speed along the natural processes by increasing daylight and warm temperatures. I mean, at least we think so.
If you are planning a party, or just a get-together with one or two friends, a bright, fresh drink will bring out the spring in you whether it's dreary outside or 70 degrees. To make the planning easy, we chose five recipes that skip the flower petal decorations and rosemary ice cubes. We don't include any radical or hard-to-find ingredients, so if you don't have the juices and liqueurs already in your bar or refrigerator you will be able to find them at any liquor store. You can pick up herbs for garnishes during your regular trip for groceries.
Cucumber Cooler
The thing about spring drinks is that they often use ingredients that evoke summer. This cooler does just that. And as Minimalist Baker says, it's as "simple as can be" as well as delicious.
White Wine Mojito
Mint is the perfect spring drink ingredient. While sitting on the deck alone or with a friend, this re-imagining of the traditional mojito, first spotted in The New York Times, will refresh and motivate.
Rhubarb-fennel gin cocktail
You don't have to be a martini lady to appreciate what gin adds to spring. Combine earthy bounty from the garden to create a gin-infused delight from Bon Appetit. This recipe does take a little more work, but dream of warmer days as you concoct.
Strawberry Gin Smash
We can't wait for local strawberries. We like to pick them, eat them, share them – and drink them. This strawberry-based "smash" featured by TheKitchn also includes mint, lime juice and, of course, gin. It can be sized for one person or a crowd. Hello, Spring!
Limoncello Drop
We recently discovered limoncello and while we imagine it as a four-season aperitif, we plan to drink a lot of it in late spring only because it welcomes summer with hints of the warm islands of Italy. Or, as Bit by a Fox says, this sweet-and-sour invention is the perfect "pretending-it's-not-still-acting-like-wintertime-in-the-middle-of-March cocktail."
Now get to work banishing the winter blues.
---